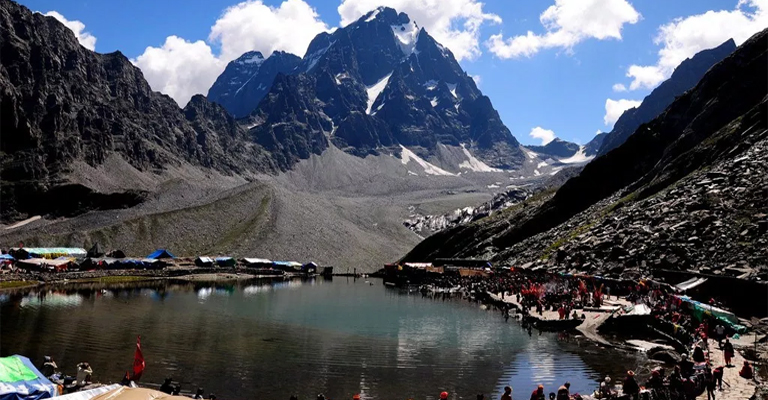 Manimahesh Yatra
One of the major pilgrimage places in Himachal Pradesh, Manimahesh Lake is located 21 kilometers away from Bharmour in Budhal valley. The lake is located at an altitude of 13,000 feet below the Kailash Peak (18,564 feet). Every year, on the eighth day of light half-moon half of the month of Bhadrapad, a fair is organized on this lake, which attracts thousands of pilgrims, who gather to take a dip in holy water. Lord Shiva is the deity of this fair / Jatra. It is believed that he lives in Kailash. The formation of a rock as a Shivalinga on Kailash is believed to be the expression of Lord Shiva. On the basis of the mountain by the local people, the ice field is called the Chaugan of Shiva.
Mount Kailash is considered invincible. No one has been able to measure this peak by now, despite the fact that it has conquered much higher peaks, including Mount Everest.
One story is that once a cushion tried to climb the mountain with a herd of sheep. It is believed that he has turned into a stone with his sheep. It is believed that the series of small peaks under the main peak is the unfortunate cowboy and remains of her herd.
Another legend is that according to which Snake tried to climb on this peak but failed and turned into stone. It is also believed that the kailash peak by devotees can only be seen when God is pleased. Bad weather, when the peak hides behind the clouds, it is a sign of God's displeasure.
Shiva has a marble image in a corner of Manimahesh Lake, which is worshiped by pilgrims who go to this place. After bathing in holy water, pilgrims go three times around the perimeter of the lake. The lake and its surroundings have a great view. The reflection of snow peaks in the calm waters of the lake appears as shadows.
Manimahesh  is visited by various routes. Pilgrims from Lahoul-Spiti come through passes. Some of Kangra and Mandi come from Kawarsi or Jalus pass. The easiest route is from Chamba and goes through Bharamaur. Currently the buses go up to Hudasar. There is an important permanent place between Hudsar and Manimahesh, which is known as Dhancheho where pilgrims generally spend the night. Here is a beautiful waterfall. Around one kilometer from Manimahesh  Lake, there are two religious significance reserves named Gauri Kund and Shiv Kroatri, where according to popular belief, Gauri and Shiva performed the bath respectively. Prior to departure of Manimahesh lake, women pilgrims take holy bath in Gauri Kund and in the male pilgrim Shiva Kroatri.