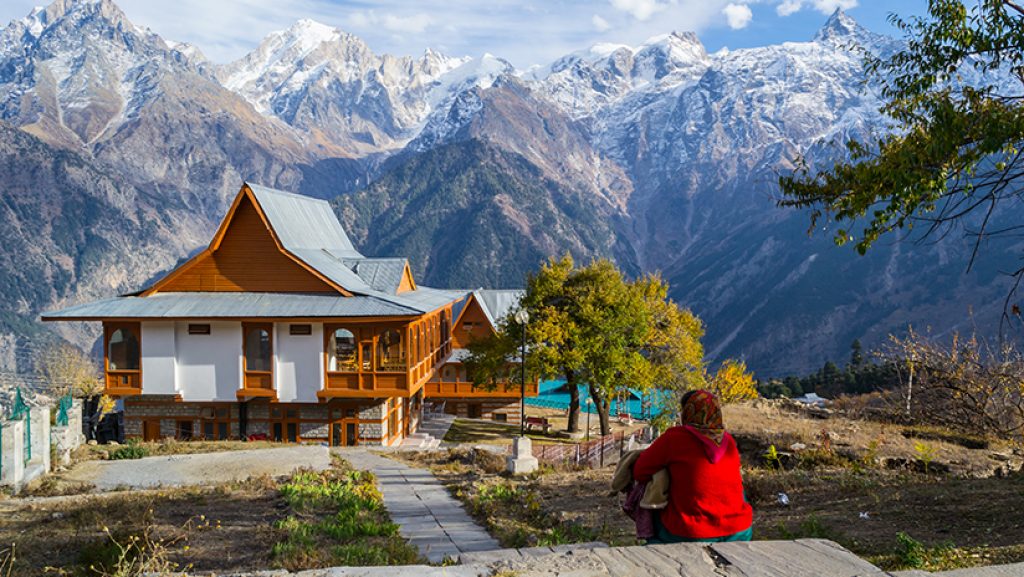 Kalpa Valley
Kalpa is a small village located in Kinnaur district of Himachal Pradesh. Situated at 2758 meters above sea level, Kalpa was the first headquarters of the Kinnaur region. However, it was later replaced by Rekang Peo city. Passengers can see the beautiful Sutlej river flowing beneath the Great Himalayas and passing through the rocky surface of Kinnaur. This place from Shimla is situated at a distance of about 230 km. This beautiful village of Himachal is counted among the selected tourist destinations, where atleast two days have passed and you can enjoy the natural beauty here. Surrounded by the Himalaya hills, this place is known for its charming climate.
Kinnar Kailash
Kinnaur Kailash mountain, known as Kinnar Kailash Mountain in the local language, is also one of the main attractions of Kalpa. This is considered sacred by local people of this region. A Shiv Lingam, at its peak, is 70 meters high, which attracts a large number of devotees and tourists throughout the year.
Sangla valley
Sangla valley is situated at an elevation of 8900 feet above sea level. This place is situated between the splendid curved streams on the banks of the Baspa river. The natural beauty of the place increases with the presence of snow-covered mountains and green grasslands. Some popular tourist attractions near the valley are Kamru Fort, Kilba, Sapni, Raksham and Naga Temple.
Chinese village
Visitors can also see the Chinese village, which is known for its rich heritage and tradition. Located at an altitude of 2290 meters above sea level, Rekong Paio City offers a panoramic view of Kinnaur Mount Kailash. Suicide Point is another prominent place, which is just 10 minutes away from Apple's garden. Adventure enthusiasts can also enjoy trekking in this area and discover the natural beauty of the place.